Current Issue:
January 22, 2004
News, events, features
Latest scientific findings
The people behind the university
Harvard and neighbor communities
Scores, highlights, upcoming games
On Campus
Newsmakers, notes, students, police log
Museums, concerts, theater
Two-week listing of upcoming events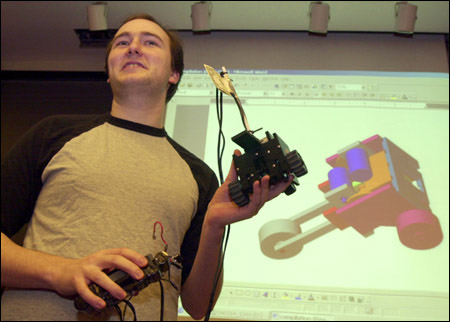 Francis Crick '04 (above) displays a homemade ATV to the class as the screen behind him shows the remote's design with 3-D modeling software. (Staff photos Jon Chase/Harvard News Office)
In class, off-road
Motivated engineering students take to the computer, the workshop - and the road
In the class "Computer Aided Machine Design," students don't just talk the talk, they walk the walk - and race the race. This introductory course in the design and construction of mechanical and electromechanical devices peaks with students designing and constructing a small fleet of all-terrain vehicles (ATVs) that compete with each other on a homemade obstacle course.

For two demanding weeks, students "reverse engineer" a common cordless screwdriver, learning in this undoing process the function of the screwdriver's basic parts. In the ensuing several weeks, they work in teams of three or four to metamorphose the screwdrivers (with the help of a few additional parts and $40 worth of gears) into remote-control ATVs. Each ATV turns out to be a simple yet rugged, quick and powerful vehicle that can conquer a grueling obstacle course.

To help build these tough little racers, students learn to use 3-D modeling software. With the software, the students generate "code," i.e., instructions and measurements, that is fed into a lathe at the machine shop to cut out custom pieces. The software, in effect, helps ensure that the builders have pieces that are accurately sized and shaped.

As the finished vehicles take to the track, they compete in a range of capabilities, most notably power (towing a heavy trailer up a ramp) and maneuverability (driving through a "slalom" course made of beakers and funnels). After these feats and a few more - traversing over circuit-board "rubble," going through a tunnel, and other deeds of derring-do - the vehicles are judged, winners are announced, and students go on to other classes and other, somewhat less exciting, homework.
Chris Johnson '07 (left) maneuvers his vehicle down the homestretch. Team Dollar's vehicle (right), sporting an identifying dollar bill on its antenna, maneuvers over a rough stretch of terrain built with obsolete computer parts.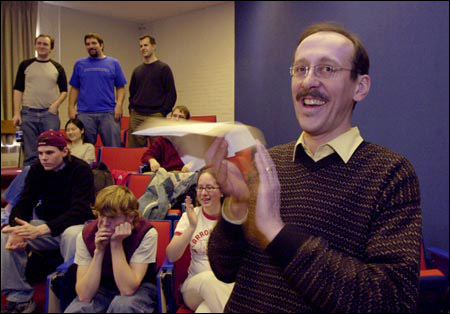 Professor Robert Howe applauds an entry after its performance.